60mm Olfa Deluxe Hand Held Rotary Cutter for Mount Frames 1 /Each
38.690000
NewCondition InStock
60mm Olfa Deluxe Hand Held Rotary Cutter for Mount Frames 1 /Each
Log in for pricing
or
Works great for left and right-handed users
Ergonomic curved handle for comfortable long-term use
Easy squeeze handle retracts when not in use
Dual action safety locks
Description
The OLFA Deluxe Rotary Cutter is an ergonomic cutting tool that works well for all sorts of users and applications. Crafters and seamstresses love it for fabrics, while professional photographers and print shops love it for quick, accurate trimming. This premium handheld cutter has a large 60mm blade that is incredibly sharp for smooth cutting while offering safety features to protect the users.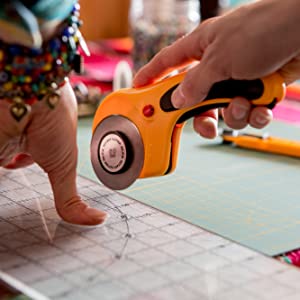 Curved handle for a comfortable hold with minimum wrist turns.

Easy to use for both short and long runs.

Raised inserts on the handle offer control and maximize comfort.

Designed for both left-hand cutting and right-hand cutting - just install the blade assembly accordingly.

The blade is engaged with an easy squeeze handle and retracts when not in use.

Lock the blade into the "cut" position, if you prefer.

Safely lock the blade in the "closed" position when not in-use and replace the blade cover.

Large tungsten steel 60mm blade is the largest OLFA rotary cutter, offering easy cutting of more difficult materials.

Tests have shown it works well for as many as 8 layers of fabric (depending on the material).

Good For:cutting strips, multiple layers, and finishing quilts prior to binding. Cuts fabric, paper, tarp, vinyl, upholstery, leather, and other thick textiles.

OLFA model RTY3/DX
The 60mm Deluxe Rotary Cutter features OLFA's new ergonomic design that offers a comfortable and positive grip of the cutter. Simply squeeze the handle to engage the blade and you're ready to cut. An integrated dual-action safety lock and blade cover are designed to ensure your safety. This lock also lets you lock the blade into the cut/open position for continuous cutting without needing to hold the grip. This design allows the user to lock the blade open for comfort and closed for safety. OLFA's largest rotary cutter can cut up to eight layers of various thin materials, making it perfect for medium- to large-sized projects and long cuts. Its curved handle, suitable for right- or left-handed use, prevents the fatigue typically associated with repetitive cutting. The blade is made of high-quality tungsten carbide tool steel for unparalleled sharpness and superior edge retention, allowing for use with even industrial applications.
Specifications
| | |
| --- | --- |
| Item # | 88MNTRTYCUT |
| Manufacturer | Olfa |
| Manufacturer Part Number | RTY-3/DX |
| ASIN | B001CE5DLE |
| UPC Code | 91511600452 |
| Blade Size | 60mm |
| Blade Material | Tungsten Steel |
| Color | Yellow/Black |
| Retractable Blade | Yes |
| Blade Lock | Yes; Locks in Cut and Safety Positions |
| Capacity | Depends on material. Up to 8 layers of certain fabrics and papers. |
| Replacement Blades | Olfa 60mm Deluxe Rotary Cutter Replacement Blades (5/Pk) #RB60-5 |
| Dimensions | 4.9" x 1.14" x 9.83" |
| Weight | 5.4 oz. |
| Shipping Weight | 1 lb |