Cutting & Crimping Pliers For Spiral Binding Coil
Cutting & Crimping Pliers For Spiral Binding Coil
Recommended for coil sizes up to 32 mm
Designed to cut & crimp plastic spiral binding coil elements with one quick squeeze of your hand
Inexpensive and easy way to finish your coil bound books
Quantity: 1
Description
Cutting and crimping pliers are used to finish your spiral binding plastic coils. They perform two actions with just one motion: they cut the excess plastic spiral coil off, and they crimp in the edge to prevent the coil spines from simply spinning out of your book. Compatible with spiral coils of all sizes, this manual coil finisher tool quickly and easily finishes your spiral bound books for a clean and professional finish. They are a necessity for anyone who makes spiral bound books, and are used in just a few simple steps:
① Make sure the red dot side of the pliers is facing up.
② Position the pliers tip into the right hand side of the coil. Make sure the crimper is placed in the center of a curved coil.
④ Flip your book over and repeat the above steps on the other side.
That's it! In those four simple steps you can finish your spiral coils and have a professionally finished spiral bound book.
Some things to keep in mind: For step 2, keep in mind that the positioning of the crimper head on the coil is important to ensure a completed crimp. Make sure it is centered on the curve of a spiral for the best results. Also, for step 4, you must actually flip your book over to do the over side; simply moving the pliers to the over side without flipping the book will not work because the pliers only crimp in one direction.
Specifications
| | |
| --- | --- |
| Item # | 05HANDCRMP-GRP |
| Manufacturer | Buy101 |
| Manufacturer Part Number | ACP |
| Suggested User | Personal, Small Office |
| Binding Style | Spiral Binding / Plastic Coil |
| Operation: Binding | Manual |
| Compatible Supplies & Accessories | 4:1 Pitch Spiral Binding Coils |
| Manufacturer's Warranty | 90 Day Limited |
| Shipping Weight (lbs) | 2 |
Videos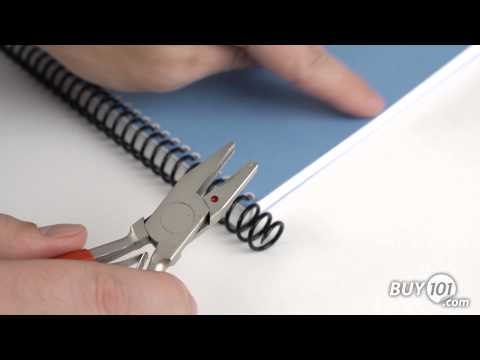 How To Use Cutter Crimper Pliers
Transcript:
Cutting crimping pliers are used to finish the edges of spiral coils on the outsides of your book. They cut the coil to size, and crimp the edged in, preventing the coil from being spun our from the book.

Using the cutter crimper pliers is simple. Place your coiled document flat on a table. Looking at the pliers, you will see one side has a red dot and the other side doesn't. With the red dot of the pliers facing → UP, ← position the pliers into the right hand side of the document with...
Read More
Cutting crimping pliers are used to finish the edges of spiral coils on the outsides of your book. They cut the coil to size, and crimp the edged in, preventing the coil from being spun our from the book.

Using the cutter crimper pliers is simple. Place your coiled document flat on a table. Looking at the pliers, you will see one side has a red dot and the other side doesn't. With the red dot of the pliers facing → UP, ← position the pliers into the right hand side of the document with the cutting head in the center of the coil of the book
(It is important where the cutters are positioned on the coil; not too far down and not too far up, but into the center of the coil or they will not crimp). Now just squeeze the handles. Then →FLIP THE BOOK← and repeat the procedure
(You need to flip the book because the cutting crimping pliers only crimp in one direction)