Dahle 550 14-1/8" Professional Generation 3 Rotary Trimmer 1 /Each
163.000000
NewCondition InStock
Dahle 550 14-1/8" Professional Generation 3 Rotary Trimmer 1 /Each
Log in for pricing
or
14" Cutting length & 20 sheet capacity
Limited lifetime warranty
Self-Sharpening ground steel blade with safety cover
Professional & safe, manufactured with German engineering for best-in-class quality
Description

Dahle Professional Rotary Trimmers
Generation 3 Series
With a sturdy design and a variety of cutting lengths, these trimmers are ideal for heavier duty applications like trimming multiple sheets of paper and cardstock. Their stability and reliability are ideal for busy offices, art departments, and professional photographers.

Dahle Rotary Trimmers are highly precise paper cutters that offer control and accuracy for general trimming and creative projects. They feature a self-sharpening system that maintains a perfectly honed blade, a metal base with screened guides that will never warp or crack, and the blade is encased in a plastic housing for safety. These German-engineered trimmers guarantee years of trouble-free use for ultra-precise trimming of paper, photos, and cardstock.

Precision, Self-Sharpening Blade
This trimmer features a self-sharpening cutting system. No need to worry about replacing dull or worn blades, this system sharpens as you cut to maintain a perfectly honed edge. The blade's precision graduated edge will remove even the tiniest sliver of paper and produce a clean, burr-free cut.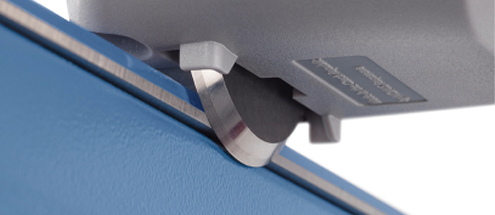 The extruded aluminum guide bar provides superior strength and durability when cutting thicker materials. The dual-barrel design provides a smooth, stable track for the cutting head to power through dense material.
Holding your work securely by hand is no longer necessary. The trimmer's integrated, automatic clamping system provides even pressure that prevents your work from shifting.
The base features carefully screened rulers and guides to help align your cuts, plus standard-sized guides for trimming photos and documents. For a solid foundation, it has a sturdy metal base that will never warp or crack.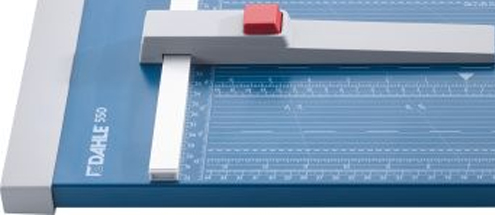 Dahle Rotary Trimmer Warranty
Dahle North America, Inc. offers a lifetime warranty against defects in manufacturing, materials, and assembly (excludes cutting blades and clamp). This warranty applies to the original owner only. It does not cover damage caused by abuse, misuse, or unauthorized repair. Dahle products are manufactured and tested according to the highest quality standards.
About Dahle
Dahle North America, Inc. is a customer-oriented company committed to providing the highest quality products and services to meet the needs of our customers. Founded in 1976, we are a subsidiary of Novus Dahle of Lingen Germany, and are located in Peterborough, NH. Dahle N.A. distributes Dahle and Novus branded products to a network of resellers throughout the U.S. and Canada.
Recognized worldwide, the Dahle name is synonymous with quality and innovation. Dahle products are engineered and developed in Germany and exceed the most serious demands for performance. Founded in 1930, Wilhelm Dahle first began producing steel cutting discs for pencil sharpeners. Throughout the years, Dahle's product popularity and reputation for customer satisfaction have grown worldwide. Using the strictest standards for quality, all Dahle products are guaranteed to give the highest level of performance that customers have come to expect.
Specifications
Item #
04DAHLE550
Manufacturer
Dahle
Manufacturer Part Number
550
Version
Generation 3 (Gen 3)
Operation
Manual
Compatible Supplies & Accessories
Replacement Blade (00650-15722)
Dimensions
21-3/4" x 14-1/8"
Manufacturer Warranty
Limited Lifetime Warranty
"Dahle North America, Inc. offers a lifetime warranty against defects in manufacturing, materials, and assembly (excludes cutting blades and clamp). This warranty applies to the original owner only. It does not cover damage caused by abuse, misuse, or unauthorized repair."
Cutting Width
14"
Cutter Capacity*
20 Sheets
Shipping Weight (lbs)
1.4
Videos